Spirit Bears with National Geographic | Guest Post by Paul Nicklen
This is a guest post by WWSG thought leader, Paul Nicklen. All images are copyrighted. To purchase Paul's work, visit his website.
"There is no repose like that of the green deep woods." –John Muir
Last summer, my close friend Marven Robinson, a respected leader and wildlife guide in the Gitga'at community of Hartley Bay in British Columbia's Great Bear Rainforest, delivered sad news. Ma'ah, a beloved spirit bear, did not emerge from her winter den with the spring thaw. Shortly afterward, I received the disheartening news that the very first spirit bear I had ever photographed, affectionately called Mushroom, had also failed to make an appearance during the autumn salmon returns. The two absences most likely meant the bears had not survived the long winter in their dens, marking the end of an era within the rainforest. The impact of their loss and legacy spans far beyond the misty shores to one of the most consequential assignments of my life's work.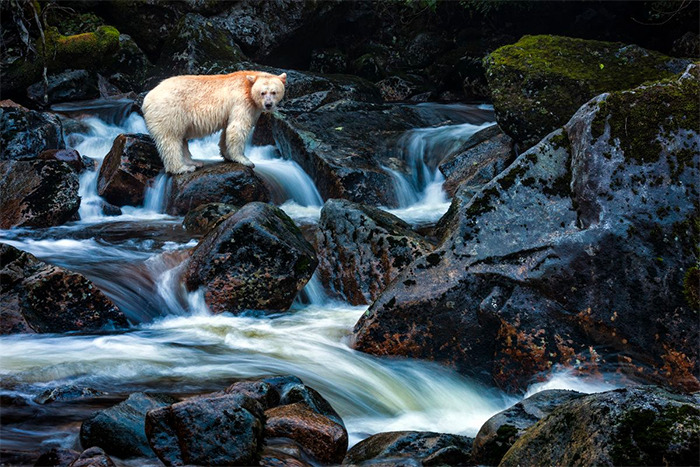 A little over twelve years ago, big oil interests had set their sights on the Great Bear Rainforest, aiming to construct the Northern Gateway Pipelines. The project would stretch from Canada's Tar Sands, home to the most carbon-intensive oil in the world, to the rich and bountiful coastal shores of British Columbia. In an effort to help prevent a looming environmental disaster, I set out under the guidance of the Gitga'at and Kitasoo/Xais'xais First Nations to shoot the story as the cover feature for National Geographic Magazine. Looking for a charismatic symbol to mobilize supporters against the pipeline, I turned to Marven, who knew exactly which animals would win the hearts of a global audience. And, more importantly, he knew where to find them.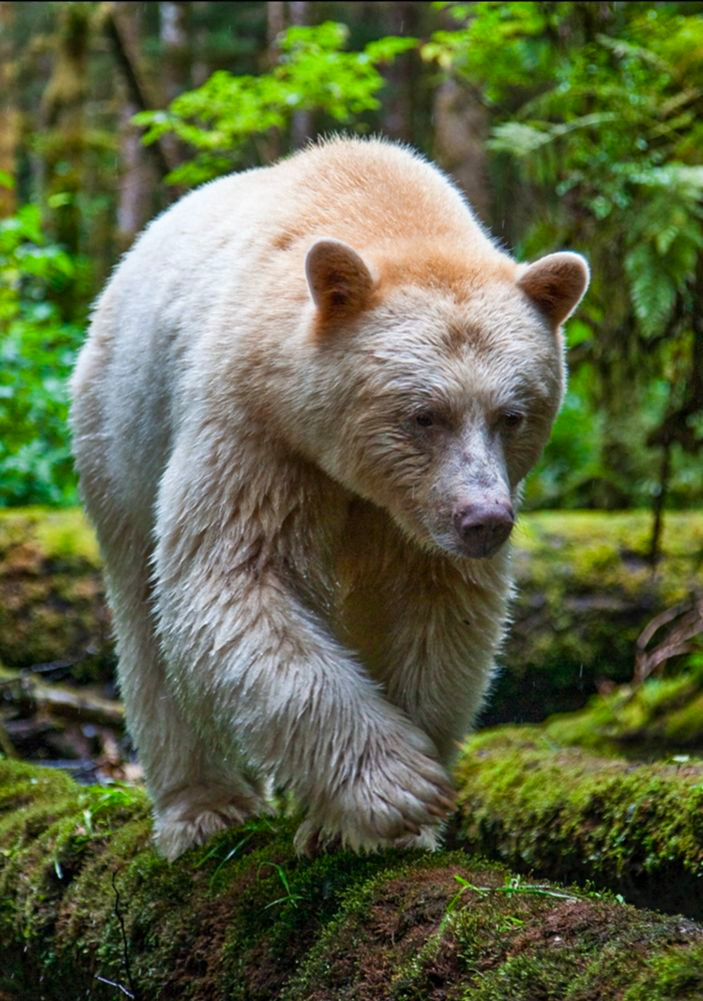 Spirit bears, or kermode bears, as they are sometimes called, are black bears born with white fur due to the presence of a recessive gene. As legend has it, every tenth black bear cub in the Great Bear is turned white and gifted with special medicine. Their secret existence was carefully guarded by people like the Gitga'at for centuries and, even with a knowledgeable guide like Marven, the bears can be extremely difficult to find.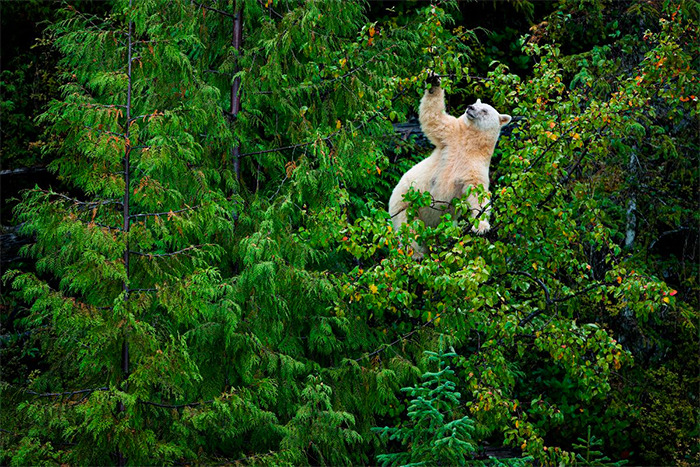 Treading through the Great Bear Rainforest was like stepping back in time. The giant trees of the Pacific coast can reach formidable heights thanks to an abundance of nitrogen in the soil. When carnivores like bears catch fish, they drag their quarry deep into the forest, where the remains seep into the earth and feed the local flora. You can even look at tree rings going back centuries and pinpoint the years when there was a large salmon return based on the accelerated growth of the trees. It was one of the most beautiful habitats I had ever photographed. However, after weeks of trudging through the rain with wet clothing, equipment, and electronics, I had nothing to show for it — and I was starting to despair. As National Geographic always reminded us, "We publish pictures, not excuses."
Weeks went by without a single bear. Finally, just as I was about to give up, I caught a glimmer of white out of the corner of my eye, and there he was – a giant male Marven had described as calm and friendly. According to Marven, if the bear accepted me, he would let me into his world.
Marven named the bear Mushroom, not for the colour of his fur but for the fact that Marven once saw him eat wild forest mushrooms – which may or may not have had hallucinogenic side effects. Thankfully when I first met Mushroom, his behaviour was normal, with no signs of fungi consumption. He was nestled deep in the trees in a sea of moss, glowing like a pale moon in the shadows. I quickly snapped a couple of shots, certain he would vanish – only instead of retreating into the forest, he got up and came straight to me. Suddenly I was feet away from a massive spirit bear fishing for salmon, close enough to film him on a 16mm wide-angle lens.
It was overwhelming to go from seeing nothing for weeks to having a bear standing a few feet away and acting like I did not exist – a photographer's dream. I spent the next two days photographing every angle of my new friend, experimenting with long exposure shots, and filling my memory cards with thousands of images. Two days was enough to give me several photographs to fill our feature story for National Geographic Magazine, but I had yet to capture the image that would ultimately make it to the cover. 
On one of my final days, my friends Jed Weingarten and Patrick Freeny spotted a flash of white in the branches of a crabapple tree while sailing past a clearing on an island. Through my lens, I made out a thick golden-white coat, a fluffy pair of ears, and a set of deep brown eyes that instilled an inexplicable sense of peace. Ma'ah was smaller than most bears and well-known to locals like Marven for her incredibly gentle nature. Ma'ah means grandmother in Gitga'at, and the delicate way she moved reminded me of a beloved grandma.  I waited for her to delve deeper into the branches and emerge again, framing her little white face between the jeweled reds and greens of the fruiting boughs, before making what would ultimately become the cover shot.
Over the years, Ma'ah's gentle presence became something of a mascot for the rainforest, inspiring empathy and public outcry for the future of her home. By 2016, the pipeline was officially called off after years of tireless advocacy from First Nations and conservation groups. Although the loss of Ma'ah and Mushroom has been felt along the coast, their legacy continues to emerge from the shadowy forest in the form of new snow-white faces. I will forever be grateful for the time I spent in their company and for the support of people like you who stand with our planet's incredible wildlife. 
Thank you for taking the time to read these letters and for being part of the journey. With immense gratitude,