Icy Landscapes: Uncovering Beauty in Frozen Realms | Guest Post by Paul Nicklen
This is a guest post by WWSG thought leader, Paul Nicklen. All images are copyrighted. To purchase Paul's work, visit his website.
"To appreciate the beauty of a snowflake, it is necessary to stand out in the cold." –Aristotle
For those of you who have been sharing in my journey, you are probably already aware of (and likely share) my deep fascination with our planet's polar regions. My love for the icy landscapes of the far north and south took root at the age of four when my family moved to Baffin Island. That was when I first began to see the world through the ever-changing lens of ice. Despite our remoteness, I felt intimately connected to the vast, untamed world surrounding me.
Ours was one of the few non-Inuit households in our community, and those formative years were spent navigating a frozen realm. Guided by the elders, I learned to track animals through the snow, avoid treacherous ice, and endure extreme cold—skills that would ultimately lead to my role as a National Geographic photographer. My life's trajectory has been irreversibly shaped by ice and the warmth of Inuit culture, which is why places like the Arctic and Antarctic will always be a favourite of mine.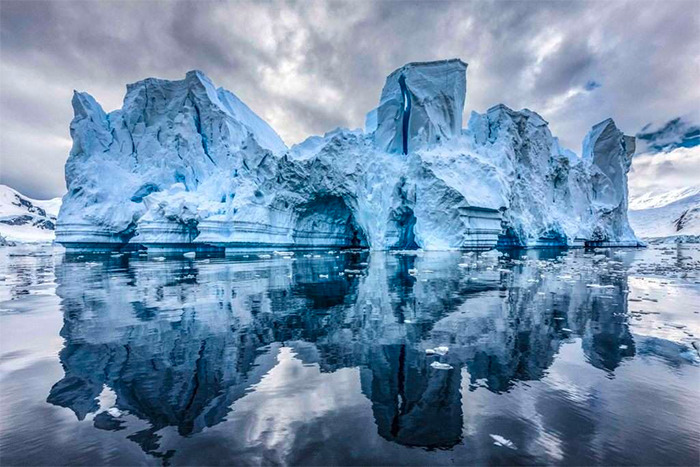 When photographing ice, the creative possibilities are limitless. Light bends, refracts, and scatters through frozen crystals in surprising ways, crafting intricate patterns and textures. You could be photographing the same iceberg from the same vantage point, yet every depression of the shutter yields a different image. These ever-shifting conditions present their challenges; an overcast sky, for example, can obscure details, turning a looming iceberg into a featureless mass against a dull horizon. Nonetheless, I've always found a peculiar sense of freedom within the environmental constraints of our planet's icy kingdoms. They urge us to explore creative paths we might never have traversed otherwise, resulting in more compelling images and often a better story behind the frame.
A land of ice is a realm of constant transformation, with new patterns and structures emerging through the clash of natural forces. During one of my earlier expeditions to the remote shores of the last continent, I observed a particularly delicate ice arch and diligently adjusted my camera. After finally settling on a composition, framing the delicate arch between two towering spires of ice, a rumble echoed across the water. Within seconds, the entire structure gave way and plunged into the sea, crackling like thunder and generating a cascade of waves. One of the most spectacular displays of nature's artistry, carved by tumultuous seas, a changing planet, long winters, and raging winds, vanished before my eyes.
I learned early in life that, even in the heart of a polar winter, there's a hidden reservoir of life beneath the snow and the icy seas. Animals like seals, polar bears, and certain species of seabirds have not only adapted to the capricious and unforgiving nature of the frozen world; they rely on its ebb and flow for raising their young, hunting for food, and finding mates. Somewhere in their evolutionary journey, the harshest aspects of their habitat became the source of their survival and resilience. Sadly, this is also what renders their polar ecosystems so fragile. With diminishing ice in the Arctic and Antarctic seas, the future of some of Earth's most iconic animals becomes increasingly uncertain.
To me, this image encapsulates the confluence of art, storytelling, and conservation and has found a place in homes worldwide. The dark clouds, ice falls, and the vast Nordaustlandet ice cap tell the story of a vanishing Arctic. Ice Waterfall continues to champion polar regions and has been used by notable figures like Al Gore. It played a pivotal role as the gatefold opening spread in National Geographic's "Cool It" Issue in 2015 and graced the cover of Pearl Jam's "Gigaton" album. Whether viewed on a small screen or displayed as a 60-by-90-inch art print in a gallery, the photograph remains undiminished—a timeless piece with an urgent call to action.
Over the decades, I have witnessed the Arctic, my childhood home and the first place where I truly belonged, evolve before my eyes. The cascading effect of climate change is one of the reasons I traded a career in science for a life of storytelling and photography. The inherent power and beauty of Earth's polar regions cannot be conveyed through graphs, charts, and research papers. The urgent need to protect these vanishing habitats cannot be fully articulated with data and statistics. I turned to photography as a means to share the frozen world I've loved all my life with a global audience and to inspire others to care deeply about its future. The images I take serve as a testament to nature's unparalleled artistry and a call to stand alongside her.
Despite the growing pressures of a warming world, I still feel we can change our course and protect our fellow wildlife—especially with the support of readers like you who share my love for the natural world.
We are in this together, and we will solve this together.
With gratitude and hope for a better future,